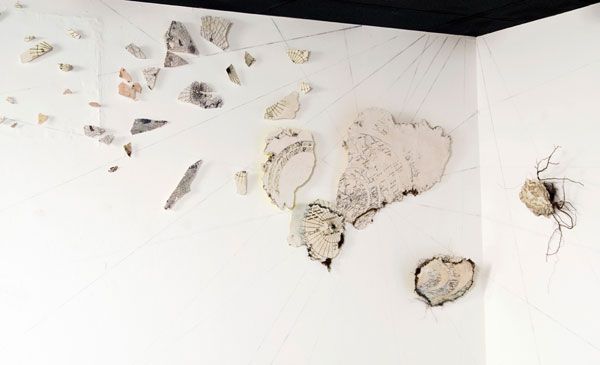 Fragile Navigation
Up until the 1800s, it would have been common for a person to be born in her parents house, farm the land her parents had farmed, buy goods from traveling salespeople and in the local town, and likely die within a few miles of her birthplace, perhaps even in the same house in which she was born. This person's experience of the world would be limited to a very specific set of places and this deep attachment to place affected the art of the times. Landscape paintings were very specific and painters visited a small number of areas, frequently in nearby locations.
Fast forward to the 21st century. Many of us travel 55 miles per hour on slow days and have spent time in several countries this year. Moreover, digital connections make it easy to see in real detail what life is like elsewhere. Although much of my work has looked at the real specifics of a place, and especially the places like Concord and St. Hippolyte to which I have emotional attachments, I'm looking to create a landscape for the 21st century that reflects both our peripatetic motion and the ties between places that follow in part from how we experience and navigate through life.
Each of us views the world through the lens of our own experience. The experiences of where we've been inform our perspective on any new place we might go and on how we navigate in the world. Of course, those places with which we are most familiar and which resonate most fully are the biggest shapers of our perspective.
In my piece Fragile Navigations, tectonic clusters of plaster-like forms are interlaced with root structures, connected to a sense of specific place by the branching carriers of Earth's nutrients, just as we are connected to the places that are meaningful to us by deep veins of history, heritage, experience and inspiration. These clusters move from a close-up view with specific sense of place, much like an early landscape, to maps done in a birds-eye view of the Boston area (taken from 15th to 19th century maps provided by the Boston Public Library) to more global views to constellations of star-like compass roses.
As we move from place to place, in our frequently fast-paced existence, we bring the places we have known with us to new territories and thus the places are connected. We are guided by our own internal compass roses, the guiding symbols built of the interlocking gleanings from the places we have resided in, repeatedly visited, and recognized as meaningful at different levels. Fragile Navigations seeks to visually represent the modern sensibility of place, tied together by natural networks as well as manmade structures like roads and digital networks.
The multiple perspectives – the close-up perspective, the birds-eye views, and overall global view -- allow us to shift our experiences and to change our interpretations of place, whether near or far. Thus what we glean from our more global view helps us bring a new perspective back to the specific of the places we know well.