Texture of Transformation
In the Dark Spots You Can See the Light
Micro Moments in Montreal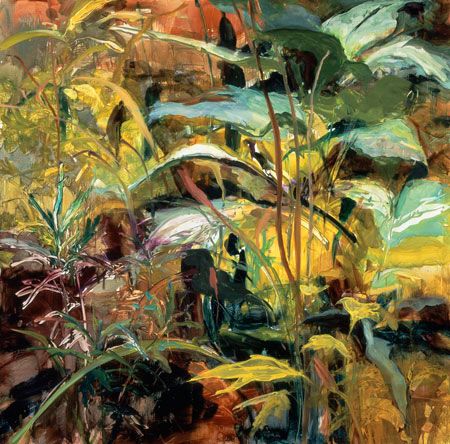 Deeptones of a Light Story
Real and Reflected (dyptic)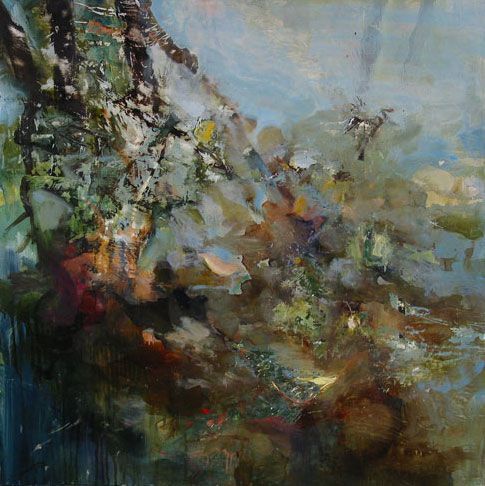 Scratching Back to the Light
Looking Down to See the Sky (dyptich)
2005
48"x24"
oil on board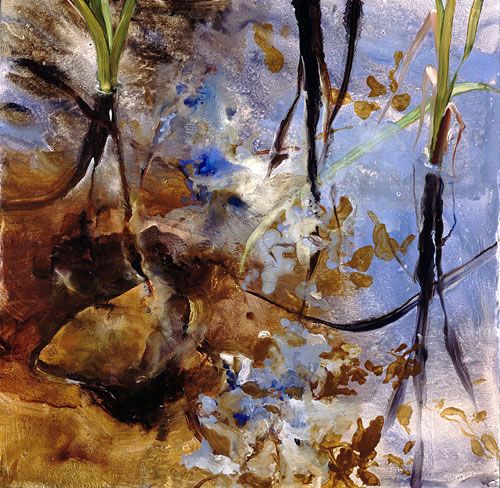 Reflected Patterns of Rock and Water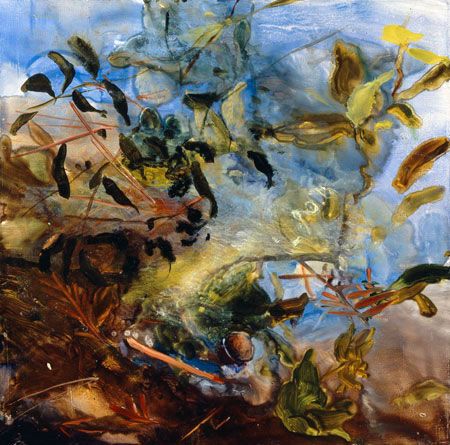 Gathering the Morsels of a Fall Day
Missed Briefly Found Deeply
2004
18"x18"
oil on wood panel
Looking Down to See the Sky
The Boston Globe: A Meeting of Mediums
Published October 21, 2005 by Cate McQuaid, Globe Correspondant
Ilana Manolson, better known as a printmaker, is showing her paintings at Clark Gallery - and they reveal a printmaker's touch. Painters build light by layering colors; printmakers let the light shine by leaving their plates bare and letting the paper show through. Manolson uses both techniques. In taking a frog's-eye view of pond life, putting us amid the reeds and water, she uses her paint the way she might use ink in a monotype, ranging from watery washed to more opaque, cleanly articulated forms.
The vivid, accomplished results pulse with energy. Up close, the works look dense and lusciously abstract, but form a distance the intimate landscapes appear. "Embracing Weeds" sets blue-green leaves and dark green fronds in a party over the surface as the bluish ground beneath drips and dissolves. "Autumn Smells Like Change" closes in on a tiny, reflective passage of purple-red water. Brown reeds rise as their husks peel off and dangle along the water's surface.
Manolson's mastery of her medium and her easy with the thicket of perceptions at pond level, from geometric rhythms to the way water shimmers, turn her simple subject matter into opportunities for revelation and reflection.