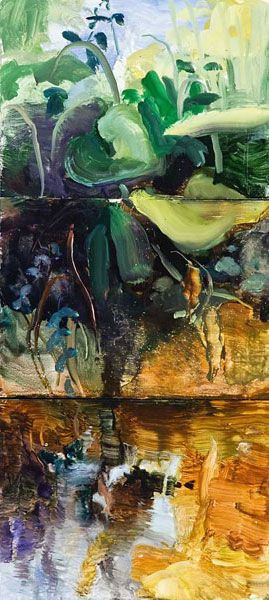 A Small Moment of Larger Nature
Looking in All Directions
Evidence of Things Not Seen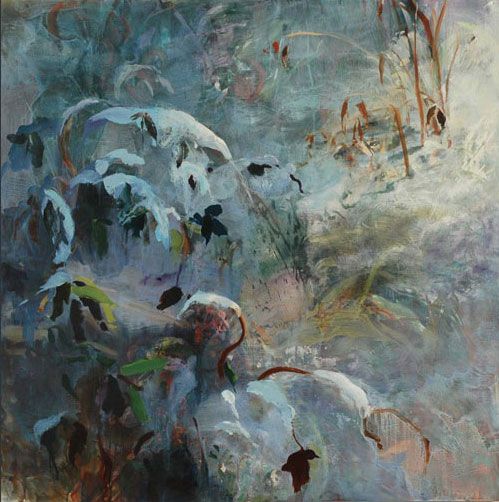 Standing in the Shadow Seeing the Light
Observing the Overlooked
In her show of predominantly square, painterly oils on panel at Clark Gallery, takes as her starting point a small slice of plant life -- leaves in snow, weedy undergrowth, forest understory or trees reflecting in water. Her best works transcend the telling botanical detail and enter the realm of abstraction.
In Standing in the Shadow and Looking to the Light, 48 by 48 inches, swirling strokes and diagonal movement from bottom to top keep the eye moving. The play of light and dark leaves -- anchored by green brushstrokes in the painting's lower left -- provide an effective counterpoint to the diffused light and glazed color of the painting's subtly shifting ground.
In the triptych, Top of the Morning, I, II and III, the massing of plant forms, in a multiplicity of greens, evoke a garden corner or hedgerow. Painted directly, during a residency in Ireland, the supple brushwork has the concrete immediacy of an oil sketch, in contrast to the layering and scraping of the more worked panels.
Manolson makes good use of a variety of ways of applying -- and removing -- paint. It is brushed, scumbled, scraped, wiped, sanded or layered in diaphanous glazes of thin pigment – to create her luxuriant surfaces. In Layered Snow, 30 x 30 inches, calligraphic remnants of fall plants gesture from a snowy ground. A first impression of many whites is a mirage. Further looking reveals a shimmering surface of lavenders, greys, blues and yellows. The brushy paint in Taking Lessons from a Turtle, a frothy image of a stream and its reflections, suggests finger-painting or monoprint. The drips around the panel edges evidence the fluidity of both medium and subject.
If there is a fault in some of these paintings, it is in overly sweet color. This is not the case in the 48 by 48 inch Circle of Seasons, my favorite piece. Here, leaves pirouette across a ground of ochres, browns, aquas, indigos and earthy greens. The deeper palette, enlivened surface and sensuous use of thin paint washes with abundant drips are reminiscent of Michael Mazur's work of the 1990's. The painting brings to mind Tang Dynasty ceramic glazes and shows Manolson at the height of her artistic powers.
–ANNE KRINSKY